Skin, Bones, Hearts & Private Parts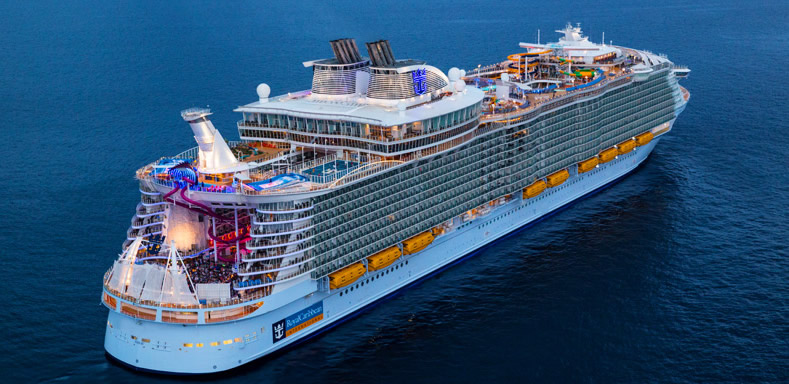 7-Night Western Caribbean Cruise
Round-trip Miami, Florida

November 07 - 14, 2020
16 CME Hours

Course Fees:
$595 for Physicians, Physician Assistants & Nurse Practitioners

IMPORTANT NOTE: All conferees, their families, and guests must book their cruise within the University at Sea® meeting group through University at Sea® at 800-926-3775 or by registering online. This ensures our company can provide conference services and complimentary social amenities to all meeting participants and their guests. Thank you for your cooperation.
Faculty
Mary Vacala, PA-C, ATC, MSPAS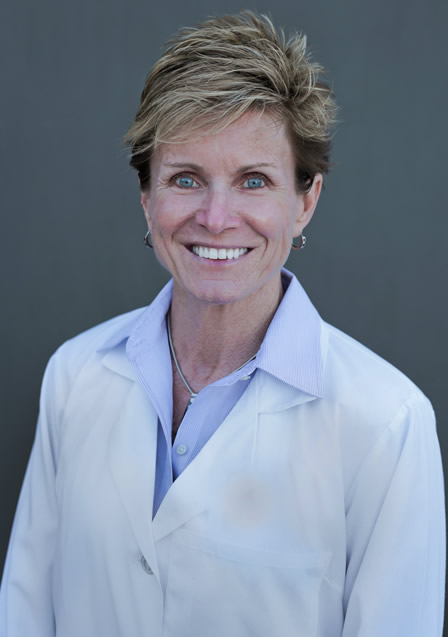 Practicing as a Physician Assistant and specializing in Orthopaedic sports medicine for 32 years, Mary Vacala resides in Savannah GA. Mary has extensive experience working with patients and athletes of all ages and professions. Mary started her sports medicine career in college where she was both a scholarship athlete and athletic trainer. Mary's philosophy is to live your life with purpose and have fun doing it. Mary holds 2 Bachelor's of Science degrees and 2 master's degrees in Medical Science and Physician Assistant Studies. Mary has been certified as an athletic trainer for 41 years and a Physician Assistant for the past 32 years. Mary has coordinated several athletic training, sports medicine, and PA programs and served as department chair/program director of a Physician assistant program. She continues to mentor student PA and ATC interns, and Family Medicine Residents. Mary has been presenting guest lectures throughout the country and internationally for the past 25 years.

She has worked with the USA Olympic Committee since 1993. Mary was one of 3 medical coordinators and a Chief athletic trainer in the 1966 Atlanta Olympic games.She was selected to the USA medical Team in 2000, 2004, 2016 and 2020 where she covered the Paralympic games in Sydney Australia, Athens Greece Rio, Brazil and Tokyo,Japan.
She has been a part of several Paralympic Medal Teams most notably:
Trainer for 3 Gold Medal Americas Cup teams
Trainer for 2 silver medal world Championship teams
Trainer for 2 Gold medal ParaPan American Championship teams
Trainer for 2 Gold Medal Paralympic Teams
Trainer for USA men's Paralympic 2020 Team
Mary has served as a secretary and a two-term president of the Georgia Association of Physician Assistants. Mary has served as a delegate for the AAPA House of Delegates for eleven terms. She was elected by her peers as the GAPA Physician Assistant of the year in 2015.
Mary has co-authored a Chapter on the Care of the Physically Challenged Patient in the book "Physician Assistant: A Guide to Clinical Practice. She has numerous honors of which most recent include; The Hu. C Myers Award, distinguished alumni PA award at Alderson Broaddus University, The 2017 Distinguished Alumni award from Western Illinois University and the AAPA Distinguished Fellow.
R. Mimi Secor, DNP, FNP-BC, FAANP, FAAN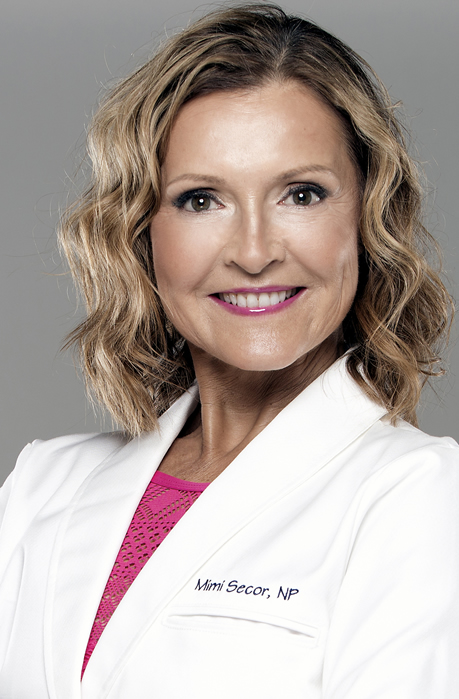 Dr. Mimi Secor, Nurse Practitioner, National Speaker/ Educator, a #1 International Best-selling Author, and a Health and Fitness Advocate Dr. Secor has worked for 43 years as a Family Nurse Practitioner specializing in Women's Health and more recently Health and Fitness.

She is Senior Faculty w/ Advanced Practice Education Associates (APEA) Lafayette, LA In 2015, Dr. Secor earned her Doctorate in Nursing Practice (DNP) degree from Rocky Mountain University of Health Professions in Provo, Utah.

She is a Fellow in BOTH the American Association of Nurse Practitioners (AANP) and the prestigious American Academy of Nursing (AAN). She has also published extensively, including her NEW #1 International Best-Selling book, "Debut a New You: Transforming Your Life at Any Age", NEW 2018 (4th edition) co-authored textbook, Advanced Health Assessment of Women; Skills and Procedures, and her NEW 2018 (2nd edition) co-authored textbook, Fast Facts About the Gynecologic Exam for Nurse Practitioners, PAs and Midwives- both by Springer Publishing.

She has rec'd several awards including the Lifetime Achievement Award from the Massachusetts Coalition of NPs (MCNP) and the Student Service Award from Rocky Mountain University, BOTH for her contributions to the NP profession.

Dr. Mimi Secor is in business with her daughter (a Pro Body Builder, Trainer and Health Coach), as "Coach Kat and Dr Mimi" helping NPs become Healthy and Fit. They offer a variety of online programs including a 6-month intensive mentorship program.

Additional:
She has years of media experience including as a national radio host on ReachMD.
As a guest on Good Morning America, interviewed by the Wall Street Journal, the Boston Globe and many others. She is a frequent guest on various podcasts nationally, internationally and is quoted in numerous articles.
After losing weight and becoming healthy during her DNP, a year later in 2016, she was in her 1st body building competition, making her "Debut at Age 62" and in 2018 she placed 2nd in her fourth competition.
Our staff can assist you with all your travel arrangements.
Target Audience
Physicians, Physician Assistants, Nurse Practitioners
Program Purpose / Objectives
Agenda
Date
Time
Speaker
Topic
Mon-Nov 9, 2020
8:00am-10:00am
Vacala
Weekend Warriors
10:00am-12:00pm
Vacala
Orthopedic Biologics, PRP vs Stem Cell Trend or Future
1:00pm-2:00pm
Secor
Women's Health Guidelines Update 2020: Whatís New?
2:00pm-3:30pm
Secor
Contraception Update:The Latest Trends
3:30pm-5:00pm
Secor
STI Update 2020: Focus on the Female
Fri-Nov 13, 2020
8:00am-10:00am
Vacala
Knee Injuries & Treatment Options
10:00am-12:00pm
Vacala
Orthopedic Case Studies
1:00pm-2:00pm
Secor
PCOS: Common, Complex and More Serious Than Ever
2:00pm-3:30pm
Secor
Menopause 2020: Vasomotor Symptoms and GSM: Whatís New, Hot Off the Press!
3:30pm-5:00pm
Secor
Healthy Clinician, Healthy Patient: The Power of Modeling a Healthy Lifestyle.
Monday, November 9, 2020
8:00am-10:00am: The Weekend Warrior
A Weekend Warriors is someone who is committed to an activity but, based on life, work, and family demands, has limited time to participate or train for that activity. As a result, these individuals do little or no exercise during the week and try to squeeze everything in on the weekend doing more than his/her body is ready to do. Baby boomers are crowding their doctors offices as a result of their quest to stay out of their doctors office. Exercise obsessed baby boomers are the second most common reason for doctor visits. Encouraged to stay healthy baby boomers are pushing the limits of their middle aged bodies abilities and filling our offices and operating rooms in an effort to keep on going.
Most complaints are minor injuries from overuse or poor conditioning. The most common reason for injury during participation is trying to do more than the body can handle. Pain can be a signal of a more ominous underlying condition. The most common sports injuries seen in this group of individuals will be discussed. Exam strategies and common treatment options will be shared with you.
10:00am-12:00pm: OrthoBiologics Platelet Rich plasma/Stem cell (Future or trend)
Orthobiologics is a new and trending science that involves the application of natural materials from biological sources and suggest new possibilities to promote and accelerate bone and soft tissue healing. Platelet-rich plasma (PRP) and stem cell therapies are orthobiologics that have recently gained popularity as adjuvant treatment for musculoskeletal injuries. This is an informative lecture to explain the different types of Orthobiologics and the impelling research that has caused such a popular tend in treatment options. At the end of this lecture you will feel comfortable answering your patients questions and be comfortable to discuss the different orthobiologics and their possibilities.
1:00pm-2:00pm: Women's Health Guidelines Update:
Upon completion of these presentations, the attendee will be able to discuss the epidemiology of selected conditions including their risk factors. This course will also explore and explain key aspects of the most current guidelines/rationale for selected conditions while describing controversies regarding these guidelines.
2:00pm-3:30pm: Contraceptive Update: The New CDC MEC & More
This course will describe trends and contraceptive challenges facing clinicians and patients as well as explaining the new CDC medical eligibility criteria for prescribing various contraceptive methods and medical conditions. New contraceptive research regarding efficacy, risks, and benefits will also be discussed as this pertains to prescribing.
3:30pm-5:00pm: STI Update: Everything You're Itching to Know
Informative discussion of epidemiology and explanation of the diagnostic work-up of STIs in the United States. The discussion will focus on the female: Herpes, CT/GC, PID, Cervicitis, HIV, and Sexual Assault.
Friday, November 13, 2020
8:00am-10:00am: Knee Injuries Diagnosis and Treatment Options
Everyone falls and hurts their knees at sometime in their lives. Knees are easily and frequently injured. Complaints of knee pain are routinely seen in every health care setting. Important medical history questions, examination techniques, and review of x-rays, will be extensively covered. Knee anatomy is displayed and described. A reproducible and systematic approach to knee disorders allows providers to formulate a correct differential diagnoses and institute timely treatment. Differences between intra and extraarticular problems, patellofemoral alignment issues, and acute injures are addressed and displayed. At the conclusion of this lecture you will be better able to diagnose and effectively treat patients with knee complaints.
10:00am-12:00pm: Orthopedic Case Studies
Case presentations of actual Orthopedic cases will be discussed in detail. Cases will include history of injury, pertinent physical exam findings, x-ray findings, discussion on differential diagnosis and discussion of the guidelines and practice of evidence based medicine as recommended by the AAOS.
At the end of this lecture participants will; understand the mechanism of injury & principles of decision making in orthopedics, Learn various treatment Options for Common Orthopaedics Complaints. Have an appreciation for orthopedic emergencies, trauma, and common injuries that present to clinical practice. Understand how to formulate a differential Diagnosis for Common Orthopedic complaints that present to the Clinic & or ER.
1:00pm-2:00pm: PCOS Update: Common, Underrecognized and More Serious Than Ever
This course will discuss epidemiology, pathophysiology, and the associated risks and complications. Upon review of the symptoms and signs, we will continue to discuss review and explanation of the diagnostic work-up and "best practice" management approaches including pharmacologic treatments.
2:00pm-3:30pm: Menopause 2020: Vasomotor Symptoms and GSM: What's New, Hot Off the Press!
This course will describe the epidemiology of menopause, Vasomotor Symptoms (VMS) and Vulvovaginal Atrophy (VVA). Discuss diagnosis of VMS and Vulvovaginal Atrophy and explain options for treatment of VMS and VVA.
3:30pm-5:00pm: Healthy Clinician, Healthy Patient: The Power of Modeling a Healthy Lifestyle
During this lively session, Dr Mimi Secor will share new research on the life-threatening effects of stress, risk factors for burnout and the many benefits of being a healthy role model including the powerful effects of modeling a healthy lifestyle for your patients (family and community).
You will learn about "extreme self-care&quot: and how adopting a healthy lifestyle and healthy habits can enhance clinician resilience, reduce risk of burnout, improve clinical competency, patient safety even impacting clinician morbidity and mortality risk.
Various easy and effective strategies for managing extreme stress and reducing the risk of burnout will be described. Learn how changing your habits can change your life and your patientsí lives too. Innovative strategies for how to adopt healthy habits such as "habit stacking" will be presented. Learn about interventions for managing various mindset excuses (like I have no time, money, motivation, energy, etc.).
Critical to our effectiveness as NPs and PACs, attendees will learn how to effectively coach their patients to make healthy, sustained life-style changes.
Conference Sessions generally take place on days at sea (as itinerary allows), giving you plenty of time to enjoy your meals, evenings and ports of call with your companion, family and friends.
Questions? Call us at 800-422-0711.
We can assist you with all your travel arrangements. We'd be happy to help you plan your flights, hotels or tours before and/or after your cruise conference.

Cruise Itinerary
DATE
PORT OF CALL
ARRIVE
DEPART
Sat Nov 07
Miami, Florida

-
4:30 pm
Sun Nov 08
Coco Cay, Bahamas

7:00 am
5:00 pm
Mon Nov 09

*

At Sea - Cruising

-
-
Tue Nov 10
Cozumel, Mexico

7:00 am
5:00 pm
Wed Nov 11
Roatan, Honduras

8:00 am
5:00 pm
Thu Nov 12
Costa Maya, Mexico

7:00 am
5:00 pm
Fri Nov 13

*

At Sea - Cruising

-
-
Sat Nov 14
Miami, Florida

6:00 am
-
*
Tentative course schedule, actual class times may differ.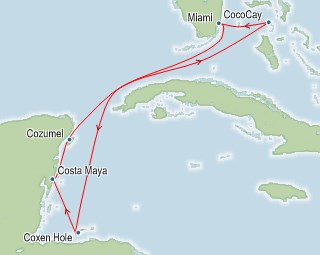 Ports of Call
Miami, Florida - South Florida's exciting, international city is much more than the gateway to Latin America, it's one of the world's most popular vacation destinations. Before departing from Miami, enjoy a tour that will highlight this "Magic City." Board an airboat and explore the wild Everglades'Äźbe ready to see gators. Experience the one-of-a-kind art deco district in South Beach. Discover a cuisine and culture that fits perfectly with your South American adventure.
Coco Cay, Bahamas - Located in the middle of the Caribbean's bright blue water lies the secluded island of CocoCay. With its white-sand beaches and spectacular surroundings, CocoCay is a wonderland of adventure. Reserved exclusively for Royal Caribbean guests, this tropical paradise has recently been updated with new aquatic facilities, nature trails and a ton of great places to just sit back, relax and enjoy a tropical drink.
PERFECT DAY COCOCAY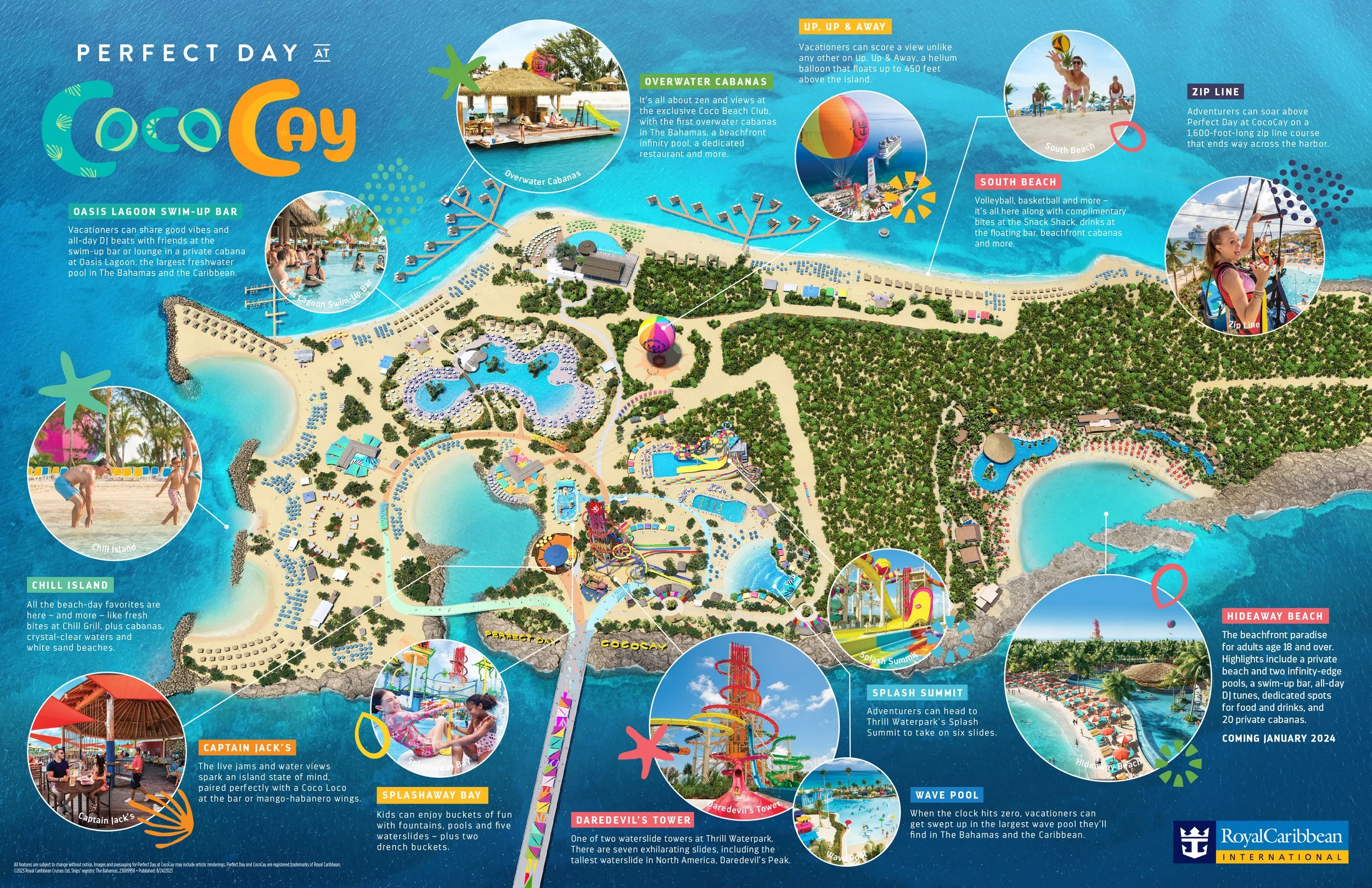 At Sea - Cruising - Cruising
Cozumel, Mexico - The Conquistadors first saw Mexico from the shores of Cozumel while searching for gold. Today, visitors to the island continue to seek out gold and silver jewelry in the shops of San Miguel while having a great time in its many local bars and restaurants. Plus, the waters around Cozumel's sheltered coral reefs make this one of the best snorkeling areas in the world.
Roatan, Honduras - Roatan Island, Honduras is an adventure traveler's vacation paradise with its blue skies, clear turquoise water and year-round moderate climate. Go scuba diving, snorkeling, swimming with the dolphins or, ashore, take a canopy tour, ride horses, explore tropical scenery, shop for island crafts, walk the beach and view butterfly and floral gardens.
Costa Maya, Mexico - Exploring the dense tropical vegetation and wide sandy bays of the Costa Maya, it's easy to imagine the days when sacrifice and slavery, rite and ritual were rampant in the Mayan culture. Even today, the countless ruins of temple walls, stairs and secret pathways exude magic and mystery. And when your archaeology lesson is complete, glorious stretches of coral sand may inspire you to build your own empire-of sand castles, of course!
Our staff can assist you with all your travel arrangements.
Questions? Call us at 800-422-0711.
We can assist you with all your travel arrangements. We'd be happy to help you plan your flights, hotels or tours before and/or after your cruise conference.
EXCLUSIVE SHORE EXCURSIONS
Please note that our shore excursions are operated separately and
independently of those offered by the cruise line.
¬©2019 - University at Sea¬ģ