The University at SeaŽ is a groundbreaking series of Continuing Education Seminars. These programs were developed to present accredited continuing education programs for professionals on luxury cruise ships, outfitted with the latest conference facilities and equipment.
The University at SeaŽ is a unique opportunity for professionals to secure quality continuing education while spending quality time with family and networking with peers in a relaxed atmosphere.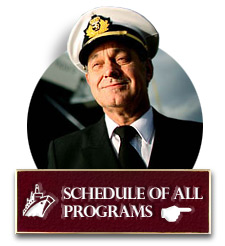 Where Does University at SeaŽ Cruise?
University at SeaŽ conferences are held throughout the world - Alaska, the Caribbean, Europe, Mediterranean and Scandinavia/Russia. The University at SeaŽ offers a great diversity or programs suited to your needs.
University at SeaŽ course sessions are conducted during the days at sea so they generally won't conflict with any shore excursions or onboard nightly entertainment.
Contacting us...
We take your calls Monday through Friday from 8:30am to 6:00pm and on Saturday from 10:00am to 2:00pm at 1-800-926-3775 and gladly answer e-mail questions, feel free to Contact us by email.

Contact | Mailing List | FAQs | Cancellations | Privacy



© 2009 University at SeaŽ All rights reserved.
Website Design by Acme Design Co.





CME Cruise, CME Cruises, CE Cruise, CE Cruises, Dental Cruise, Dental Cruises, Nurse Cruise, Nurse Cruises, CEU Cruise, CEU Cruises, CME Cruise Florida, CME Cruise Alaska, CME Cruise Europe, CME Cruise Asia, CME Cruise Mexican Riviera, CME Cruise Caribbean, CME Cruise Hawaii, CME Cruise Mediterranean, Dental Cruise Caribbean, Dental Cruise Alaska, Dental Cruise Europe, University at SeaŽ , CME Cruise Greek Isles, Cruise Meetings Caribbean, Cruise Meetings Alaska, Cruise Meetings Europe, Cruise Meetings Asia, Cruise Meetings Mexican Riviera, Cruise Conference, Cruise Conferences, Conference at Sea, Medical Cruise, Medical Cruises, Continuing Medical Education, Continuing Medical Education Cruise, Continuing Dental Education, Continuing Dental Education Cruise, CLE Cruise, CLE Cruises, Nurse Practitioner Cruise, NP Cruise, NP Cruises, PA Cruise, PA Cruises, CPD Cruises